Project introduction

A new era defined by software is on the way. As AI becomes the accelerator of the digital economy, a huge market space emerges in the software industry.Under the national initiative of the Belt and Road, Xi'an, as a new starting point and the core area of Digital Silk Road, cooperated with Chinasoft International to seize this major development opportunity vigorously.
Seize the opportunity and strive to build Xi'an into a China's famous software city and a new highland of digital economy. For this purpose, the following problems must be addressed:
build a multi-level communication platform for more software IT enterprises

talents to help small and medium-sized enterprises release their capabilities

introduce high-quality and excellent software enterprises at home and abroad

Establish a more complete software ecology
so as to establish Xi'an into a more complete software ecology district; sign the strategic cooperation agreement with Chinasoft International to carry out the close strategic cooperation by using JointForce Cloud Integration platform and smart city.
Project implementation condition
in July 2018, JointForce Cloud Integration was operated in the pilot of Xi'an Hi-Tech Zone, achieving remarkable results.In order to benefit the advantages of the Cloud Integration platform to the whole city, Xi'an Municipal Government and Chinasoft International signed a strategic cooperation agreement relating to the Cloud Integration in Xi'an during the second Global Programmer's Day.
On December 13, 2018, Municipal Development and Reform Commission and Municipal Finance Bureau jointly issued Notice on Promotion of JointForce Cloud Integration to Develop Information Technology Services Procurement Work. According to Notice, information technology service items under the procurement limit are purchased through JointForce Cloud Integration platform; as for all information technology service projects, JointForce Cloud Integration platform must be used to manage the software assets, record and track the software configuration, application and disposal conditions, and arrange the online filing well.
As a service platform covering the whole process of the construction of government information project, Cloud Integration has become a capable assistant in the government digital transformation.Based on the technical advantages and capability precipitation of Chinasoft International in the software information industry, and relying on the credible IT industry service resource base created by JointForce, Xi'an Cloud Integration links to various software suppliers extensively.Cloud Integration accurately describes the suppliers on the platform and constructs the supplier credit evaluation system by using the big data analysis technology, which effectively breaks the isolated information island, optimizes the software industrial structure of Xi'an, and help Xi'an build a new IT industry ecology.
Client evaluation
when promoting and deploying the works, the leader of the Municipal Finance Bureau said: the Cloud Integration platform enables government procurement projects to be carried out in a fair, open and impartial environment, and meanwhile performs the full life cycle management to software information assets, which can effectively improve the use efficiency of procurement fund and provide strong support for the construction of digital Xi'an.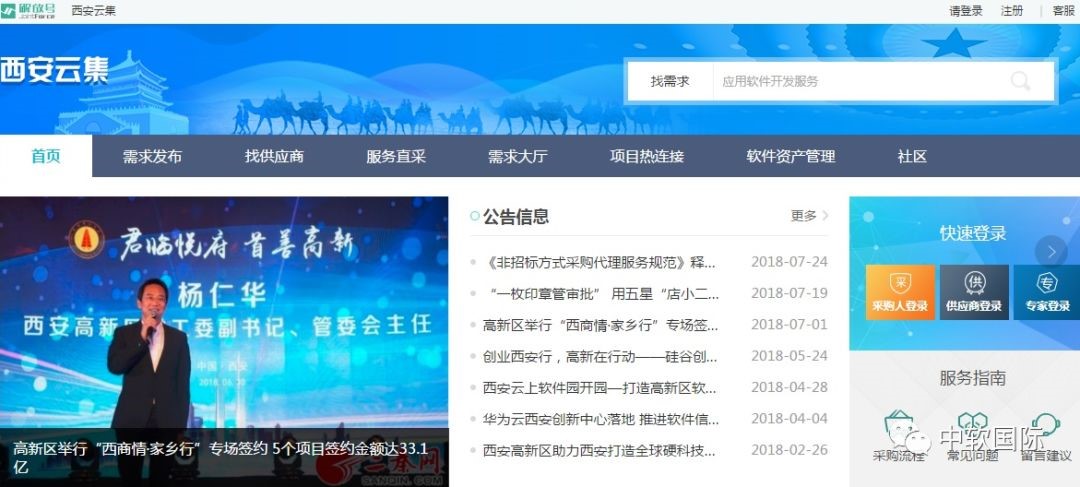 (Xi'an Cloud Integration platform interface diagram)